2020 11th International Conference on Distance Learning and Education (ICDLE 2020) will be held in University of Hertfordshire de Havilland Campus, London, United Kingdom during October 23-26, 2020.
The objective of ICDLE is to present the latest research results of scholars related to Distance Learning and Education topics. This conference provides opportunities for the different areas delegates to exchange new ideas and application experiences face to face, to establish business or research relations and to find global partners for future collaboration. We hope that the conference results constitute significant contribution to the knowledge in these up to date scientific fields.

Important Update due to the COVID-19: Online Presentation

As your safety is our top priority and concern, the conference also has added online attendance / presentation for participants in case of you cannot attend the conference because of the COVID-19.br>
Participants will benefit of registration fee reduction after choosing online attendance / presentation. Accepted papers after registration will still be published normally.

We would like to thank for your support to the conference despite the current crisis situation. Please contact icdle@iacsit.org for more information about online presentation.



Publication
Accepted papers will be published in one of the following open access journal on the basis of the paper topics:


International Journal of Information and Education Technology
(IJIET, ISSN: 2010-3689)
Frequency: Monthly | DOI: 10.18178/IJIET
* Indexing: Scopus (Since 2019), EI(INSPEC, IET), EBSCO, Electronic Journals Library, Google Scholar, Crossref, etc.



Template Download

Copyright Download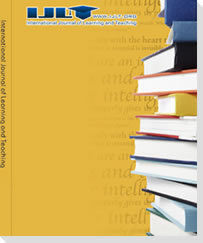 International Journal of Learning and Teaching
(IJLT, ISSN: 2377-2905)
Frequency: Quarterly | DOI: 10.18178/ijlt
* Indexing: Google Scholar; Crossref; IndexCopernicus, etc.



Template Download

Copyright Download

Keynote Speakers
Prof. Matthew Ohland
IEEE Fellow
Purdue University,
USA

Prof. Susan Lord
IEEE Fellow
University of San Diego
USA

Prof. Piet Kommers
University of Twente,
The Netherlands

Submission Guideline
English is the official language of the conference; the paper should be written and presented only in English.

* Abstract submission for presentation only without publication
* Full paper submission for both presentation and publication
Please prepare your abstract or full paper according to one of the above templates.

Submission Methods:
1: Electronic Submission System;
2: Email submission directly to icdle@iacsit.org.

If you prefer one of the journals, please kindly send an email to icdle@iacsit.org after your submission, indicating which journal you prefer. For any inquiry about the submission and conference, please also feel free to contact us.